Supernatural Fanfiction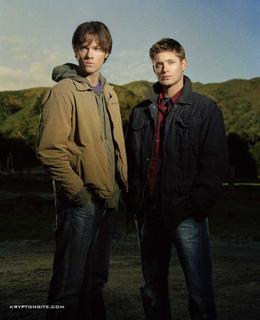 (6/5/8)"Shadow Play"



Sequel to "Eternal". Picks up directly where Eternal left off. In a turnabout Dean finds himself fighting in the underworld for Sam's eternal soul. Not knowing any of this Sam and the Atlantis team struggle to find a way to save Dean's life. Will the brothers find a way back to each other or is it too late?


(2/24/8)Letter



Missing scene for Mystery Spot.Digging through the Impalaís glove compartment Sam discovers something


(2/10/08)"Fate"


Xover with Journeyman. Dan saves Sam from an angry spirit. Will this second brush with fate bring Samís destiny closer or push it farther away?


(1/21/8 Complete))Eternal--A Stargate SG-1/Stargate Atlantis/Supernatural crossover--
Desperate to break the demon's deal Sam stumbles across an old text that leads them on a journey to another galaxy



Regrets--Tag to TKAA. Dean can't tell Sam his regrets




Twisted Justice--Alternate Universe--What if Sam had gone after the Yellow eyed Demon in Salvation?



Life--The Impala has a stowaway--fluff